Tidewater Tascas Chapter
The Tidewater Tascas would be happy to welcome you to our membership. We offer an opportunity to meet fellow Winnebago owners and share information, provide monthly camping adventures for young and old alike.
The Tidewater Tascas are in the Virginia Beach to Williamsburg Virginia Area
We get together once a month either camping or dining out. We are always looking for new members. Please check out our schedule and join us!
November 16-18, 2018 – Jim & Kathie Kline and Mark & Jan Edwards hosted. The Tidewater Tascas has quite the adventure for our November campout, some of us more than others. Staunton and the surrounding areas experienced a severe ice storm days before our arrival and some icy ride conditions still remained. You can see from the pictures that the trees along Afton Moutain were full of ice and the roads of the campground were not better.
Our original sites were located on top of the hill of the campground but after Phil and Mark had quite the adventure getting unstuck on the steep, winding, icy road heading up the hill, the staff moved our sites to somewhere less hilly. If you haven't heard the story, ask Phil next time you see him.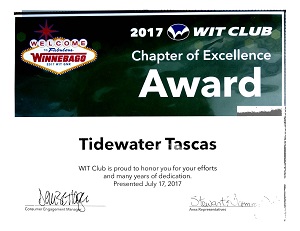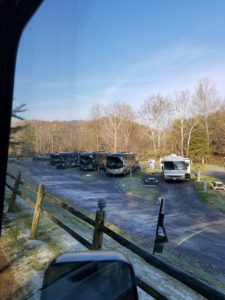 Other than the icy conditions, we still had a wonderful time. The Klines and Edwards put on an amazing taco dinner on Friday night and made arrangements for us to have dinner on Saturday at Edelweiss Restaurant which was located nearby. A few members hit up some wineries on Saturday during the day while others shopped and others went exploring. Saturday night after dinner we played an intense game of Left Right Center – Molly and Ellie participated in their first independent round but sadly lost all of their money to their mommy. Sunday we met for a quick goodbye, enjoyed some yummy donuts and pastries and then hit the road to head home.
To become a member, you must own a Winnebago, Itasca, Sunnybrook or Country Coach product.
Contacts
President Doug Plude
757-374-1693
doug675@msn.com
Vice President Alan Eggemeyer
757-574-3638
adeggemeyer@gmail.com
Secretary Elizabeth Eggemeyer
757-581-6344
elizabeth.eggemeyer@gmail.com
Treasurer Pat Bennett
757-449-4588
pathbennett@gmail.com
[/su_row]